Cash Prizes.
Trip to Hawaii.
Chasing Stars is a promotion designed to reward affiliates for advancing in rank or a star milestone (Ranks set between our current ranks). Accomplishing objectives can earn points that can be redeemed for cash or a trip to Hawaii! You can also collect 7 stars to earn a trip to Hawaii!

Use your highest rank in 2022 as your base rank. If you earn a paid rank above that rank during the promotion, you can earn points towards a trip to Hawaii or redeem the points for cash!
For example, if your title rank is Platinum but your highest rank this year is Gold. You start the promotion in the Gold tier.
Sometimes it takes a bit of time to build up momentum to get to the next rank. So this promotion will reward you for improving your team's growth. Earn the GCV volume for the Star level at your current rank (and if required, the ESP 3 Purchase requirement) and you can earn Points towards that dream vacation or cash prizes. If you collect 7 stars or more, you'll automatically be qualified for a trip to Hawaii!
Each star can be reached once. You must progress through the stars sequentially. If you advance in Rank, you can still go back and finish the previous stars.
The GCV requirement is based on the US volume generated in your Payleg. If a Star requires an ESP 3 purchase. The ESP 3 purchase can be made by the affiliate or any of their Personal Enrollees. For the ESP3 Purchase requirement, the cumulative number of ESP3s purchased must be made in the prior or current cycle.
Redeem Points for Cash! Each point is worth $1 dollar
You can earn a 4 day/3 night trip to Hawaii two (2) different ways
Redeem 1500 points for 1 trip
Earn 7 total stars and you automatically qualify!
Points can be earned based on the chart on the right. Your starting rank is your highest rank in 2022. The GCV requirement is the amount of US volume required on your payleg for each particular cycle.
Star requirements at Platinum and above also require the affiliate to purchase an ESP 3 (but not upgrades) or have a personal enrollee purchase an ESP 3. The purchase can be any purchase by an existing affiliate or an enrollment purchase.
For example, if your base rank for the promotion is Silver:
If you earn 3500 CV one week, you would earn Silver – 1 Star.
If in a subsequent week you earn 4,000 GCV you would earn the rank of Gold.
If the next week you earned 3500 GCV, you would earn the Silver – 2 Star.
If you earned 5000 in another week, you would earn Gold – 1 Star.
So the total points earned in the example above would be:
Silver – 1 Star: 100 Points
Silver – 2 Star: 150 Points
Gold: 400 Points
Gold – 1 Star: 400 Points
For 1050 points earned.
You would also accumulate 4 Stars.
*GCV Requirement must be earned for that cycle to qualify for the points for both Stars and Rank Advancements.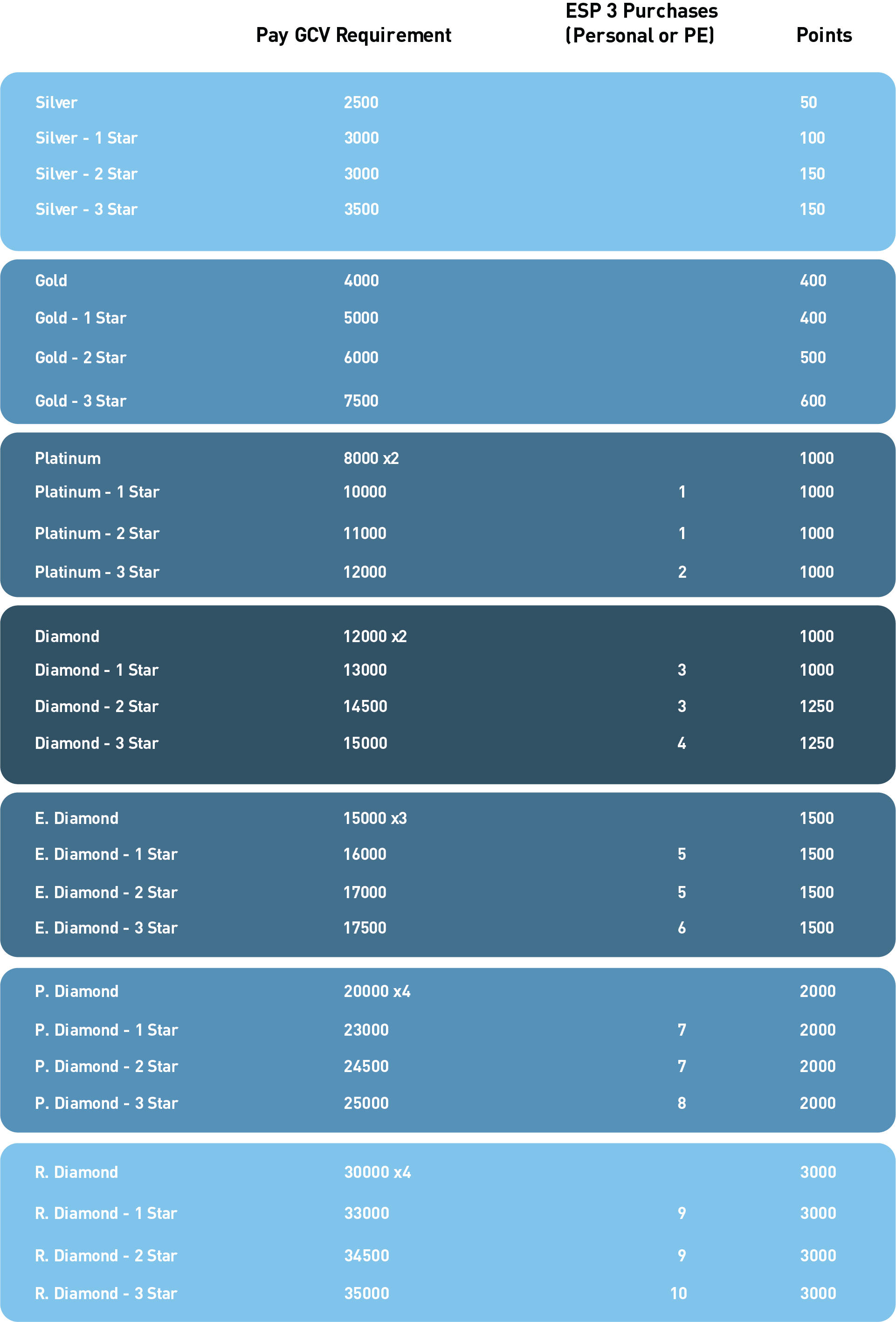 Promotion Rules
Promotion runs July 25th – December 4th, 2022
Disclaimer: Any Affiliate who attempts to enter or in any way participate or attempt to participate in the contest conducted by Gano Excel USA, Inc. agrees to be bound by the terms and conditions provided in these Contest Rules, as well as Gano Excel's interpretation of these general rules which are final and binding in all matters relating to this Contest. Affiliate also agrees to be bound by Gano Excel's Policies and Procedures. Any violation of the Policies and Procedure will disqualify the Affiliate from the Contest.
APPLICABLE LAW.
Contests are subject to and governed by applicable federal and state laws. Participation in this Contest is void where prohibited or otherwise restricted by law.
ELIGIBILITY.
The Contest is only open to active U.S. Gano Excel Affiliates who are 18 years of age or older.
RULES OF PLAY.
Chasing Stars is a promotion that rewards affiliates on the growth of their team and advancement in rank. Affiliates earn points which can be redeemed for a Hawaii trip or cash. Points are earned based on the chart above.
To earn a Star for a particular cycle, you must also earn the rank for that respective star. Earning the GCV requirement alone is not enough, the GCV requirement must be met and the paid rank for that week must be at that star level.
When you earn a star you get both the star and the points
ORDERS AND CYCLES
Cycles close two weeks after the end of the Sunday of said cycle. Results for that cycle will be finalized only after the cycle has closed. Orders that are return may result in the deduction of volume from said cycle. Deducted volumes can affect orders up to 6 months after the cycle has closed.
PROMOTION EARNINGS.
Completing the promotion does not guarantee future income or success. All Affiliates must remain active to be eligible for compensation in accordance with our Gano Excel Wealth Plan. Points expire 90 days after the end of the promotion.
PUBLICITY.
Except where prohibited, by accepting a prize, winner(s) grant the Sponsor permission to use their names, characters, images, voices, and likenesses worldwide, in perpetuity, in any and all media now known or hereinafter invented in any and all marketing and promotional materials and waive any claims to royalty, right, or remuneration for such use. Each winner's name may be included in a publicly available winners list.
RELEASES, CONDITIONS, AND LIMITATIONS OF LIABILITY.
By participating in the Contest, each Affiliate agrees to release and waive any and all claims of liability against Gano Excel and any applicable third party fulfillment service and each of their respective employees and agents (collectively, the "Released Parties") from and against from any and all liability, loss or damage (including personal injury) incurred with respect to the conduct of or participation in the Contest, or the awarding, shipping/handling, receipt, possession, and/or use or misuse of any prize, including any travel related thereto. By accepting the prize, winner(s) hereby agrees that: (i) to release each of the Released Parties from any and all claims in connection with the Contest and the award or use of the prizes.
TAXES.
Any valuation of the prize(s) stated above is based on available information provided to the Sponsor, and the value of any prize awarded to a winner may be reported to the IRS as required by law. Each winner is solely responsible for reporting and paying any and all applicable federal, state, and local taxes, related to prize acceptance and use not specified herein.
CONDUCT AND DECISIONS.
All decisions of the Sponsor will be final and binding on all matters relating to this Contest. Persons who violate any rule, gain unfair advantage in participating in the Contest, or obtain winner status using fraudulent means will be disqualified. The Sponsor will interpret these Rules and resolve any disputes, conflicting claims or ambiguities concerning the rules or the Contest and the Sponsor's decisions concerning such disputes shall be final. Gano Excel reserves the right to amend these promotion requirements or rules at its discretion.